Good evening, everyone! It's Colleen, the long lost sister who occasionally hogs/hijacks/generally takes over Kathy's blog! lol
This evening I have a picture of a Christmas card I gave to my oldest daughter for her boyfriend's parents.
It was made using the Tidings of Joy stamp set; Always Artichoke, Whisper White and Cherry Cobbler cardstock; various colors of ink and a blender pen; and some White Organza Ribbon. Simple but elegant!
Now that the "card" thing is over (Oops, did I write that out loud?), I want to share a little-known Christmas tradition that I came across on the web recently. What with today being the last Thursday before Christmas, I thought it would be appropriate to share it with all of you now.
Here goes: In days past, families used to gather on the last Thursday evening before Christmas to celebrate Talebearer Thursday. They would gather around the fireplace and take turns telling outrageous tall tales. (For those of you who don't know what a "tall tale" is, it's basically a story that is totally false . . . okay a lie!) Anyway . . . the winner of the contest would get bragging rights for the following year, and would be known as the Tallest Talebearer!
(Seriously, you believed that story! Looks like I get the title of Tallest Talebearer this year! lol)
And now, not to be outdone by Kathy, I shall finish this post with a cartoon: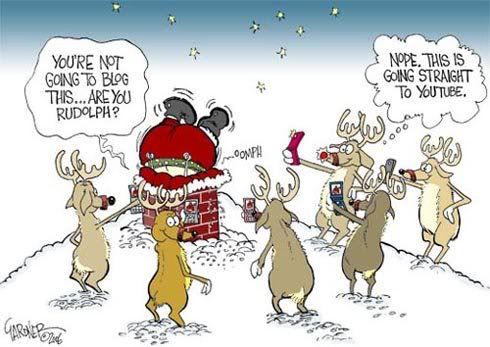 Technological hugs,
Colleen