Good Day Inky People!
No, I haven't gone blind but when I told you yesterday that I was going in a new direction with my color choice for the last card in the Fun Folds series, I certainly took a walk on the Bright Side! :O)
And the Blindingly Bright Color I chose was Melon Mambo. That's right I channeled my inner Debbie (my good friend who loves to use bright colors). Had a lot of fun with this one. I used the Not So Seriously stamp set. I love this set but hardly have anything done with it. So dusted it off and made a cute Folding Panel card.
Have a look but get your sunglasses first ok?
Yep it's bright but so darn cute, right? I used Paper Piecing for the bags and Basic Black, Melon Mambo, Soft Suede and Blush Blossom markers. Don't you just love the packages? Easier to do than coloring for sure.
This is the inside. So much Fun!
A side view to show the way it stands up.
What do you think? Is this a class you would like to do? Just contact me and I can arrive at your home with all the supplies. I am currently booking for April.
All done for another day everyone! Chat with you soon. Oh did I hear you say you wanted another joke? You did? Since I just finished painting my craft room and Easter is on its way, I thought this might be appropriate...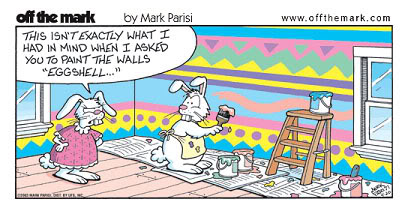 Seriously laughing Hugs!